When trying to record a moment, it is often difficult to determine what makes it significant, which detail to note, which conversation to record.  We see through lenses of prejudice, and it is often not until years later we realize the significance of the words written before.  Travel writers face the same challenges, as they interpret for us what they see, hear, and experience, and a strong travel book can be read decades later for a taste of life as it was.  Herbert Kubly, a University of Illinois professor, traveled to Italy after World War II.  His out-of-print 1955 book, American in Italy, reminds us that picking up an old travel book should not be limited to Graham Greene, Mark Twain, and Patrick Leigh Fermor.
Spending over a year in Italy on a Fulbright grant allowed Kulby to spend more time in each location than many of our contemporary travel writers who often fly in and fly out, conversing with no one more than taxi drivers and restaurant servers.  He was able to derive more significant relationships with Italians, which he shares in his book.  In lighter accounts, he recalls the debauchery of the Marino Wine Festival and experienced Venice, where he fell in love with a Venetian gold-digger, which created a great platform for his exploration and experience in this forever-touristed city.  For what is a better vehicle for exploration (and a break from a long solo journey) than having a willing travel partner to share in the experience?
Yet there are also intense moments.  Kulby spent significant time at the orphanages of Naples, speaking with the children from the streets.  His experiences remind us how far the Western world has advanced since World War II, and how Naples achieved its seedy reputation, still echoed in today's travel books.  The scugnizzi, homeless children of the streets, expert thieves and cons, seemed borrowed from Oliver Twist.  "No American who arrives in Naples can escape the terrifying onslaught.  The moment one steps off a train or a ship, he is the unwitting Pied Piper of a horde of nipping, clawing demons, chanting their evil litanies like choirboys of l'inferno."  Through his time at the orphanage he learned the difficulties they faced daily.
Kulby glances into Italian politics and the divide between left and right, Communists and Fascists, both coexisting in a poor and rebuilding Italy, replete with hookers in nearly every town.  Political opinions are tossed here and there, but, perhaps because of my ignorance of post-WWII Italy, they do not affect my view.  This was a period of contradiction.  America poured millions of aid dollars into Italy on one hand, with common Italians proclaiming the immortal "Yankee Go Home."  The parallels with today do not end there.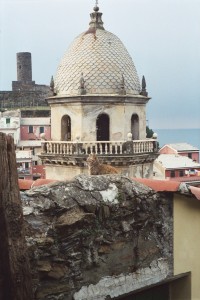 He faced many of the challenges of today's travelers.  The bus tours for foreigners stopped at restaurants, where their goal was to provide subpar food at an inflated price and reward the bus drivers with a percentage of the revenue.  Sound familiar?  He remained suspicious of those trying to take advantage of his perceived American wealth in poorer Italy.  In Taormina, he feared the friendship of a young postman to be a way to get tips and treats, but it developed into rewarding trips to the countryside to friends and family and a lasting friendship.  And, the Ugly American is nothing new, with Kulby pointing out that arrogant tourists behave "as if they were superior persons visiting an inferior race."  Pages are dedicated to an entertaining (or disturbing?) tale of two middle-aged women from St. Louis, which could have been recorded just last week:
"They ordered a glass of water.  The waiter stood and stared as if he hadn't understood.  'A glass of water," the tall one said.  'What's the matter, can't you understand English?'  Doubtless the waiter could, but it was the first time in his experience anyone had ordered only a glass of water and he didn't seem to believe it.  'Perhaps a caffé, after the water,' he said.  'No,' the small one said firmly.  'I don't want any coffee.  Italians don't know how to make coffee.  It's lousy.'"
The book is not without prejudice or the use of perjoratives which would be unacceptable in the 21st century, but it takes us into the homes and experiences that travelers would have experienced a half century earlier.  Kuldy reflects on his journey (as any good traveler will do) in an awkward but important conversation between his American identity and newly-formed Italian identity.  This underlines the importance of travel in understanding each other, something today's leaders could continue to learn from, as the Italian Kulby lectured the American Kulby:   "You have done a great deal for us materially but you have failed to see that gifts without understanding can bring you only ill will, that suspicion cannot be halted by bread, that dollars and bullets do not win trust.  You spend your billions selling yourselves, but very little making friends."  In today's America, where less than half of our legislators possess a passport, these are important words, indeed.
Book Review by Matthew Stone.  American in Italy by Herbert Kubly, Simon and Schuster, New York, 1955.
One of the top travel books of all time.