Cheesy tropical landscapes should not be limited to Key West and tiki bars, as I learned on a trip to the Arlington Hotel in Hot Springs, Arkansas.  This grand hotel once housed Al Capone and his entourage.  Less than a century ago, gamblers would frolic in the hotel with their winnings from illicit parlors nearby.  Today monkeys and water birds frolic in murals in the lobby lounge.
Upon entering the grand art deco lobby of one of the best hotels in Hot Springs, Arkansas, a glance to the left or right reveals an unexpected landscape.   
 On either side, semicircular jungle murals cradle the bar and the bandstand, offering no reference to the hotel's location in the mountains of Arkansas.  The murals were painted by a French artist, and the story (which I have yet to substantiate) adds to the mystique.  Supposedly, while in residence, the artist was having relations with a hotel resident, and the scenery on one of the murals is a cheery Rousseau dreamscape.  In a cartoon landscape of fantastic flowering trees, frolicking monkeys with near-human faces pick tropical fruit amongst parrots beneath a full moon.  But, as legend has it, his relationship soured while he painted the second mural.  As a result, the monkeys in this one are fewer and more forlorn.  His final bitter message to the hotel, inscribed in French around the body of an unidentifiable wading bird (spoonbill or flamingo, perhaps), reveals the artist's despair and hatred toward the hotel.  I must write down the original text next time I visit.  A stop by the Lobby Bar is definitely one of the top things to do in Hot Springs.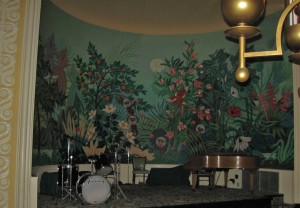 Mona the bartender retells the story nightly, and I am certain parts of the story are embellished.  But every grand hotel needs some grand legends.  Mona claims it is the second most photographed bar in the country (after Cheers in Boston), and who am I to argue?  She even told the story of a man who photographed the entire mural to duplicate in his gameroom.  As a guy who once painted his living room a South Beach palette of lime green, colonial blue, goldenrod, and lavender, I can appreciate his taste (although I am certainly in the minority). My photographs cannot capture the majesty (or mistake) of the Lobby Bar at the Arlington Hotel, but at least I tried.
Arlington Hotel, 239 Central Avenue, Hot Springs, AR www.arlingtonhotel.com