I accidentally uncovered a World's Fair relic in Southwestern Wisconsin–a 117-year old replica of an old stave church–on the site of a farm.
In 1893, Chicago hosted the World Columbian Exposition.  For its pavilion, Norway built a replica of an old stave church in Trondheim before taking it apart and shipping it to the fair.  (I have no idea how so many people could tour this little building).  After the fair, when all the pavilions were dismantled, the Norwegian pavilion was purchased and ended up at someone's estate in Wisconsin.  Fast forward to 1935 and Isak Dahle, the founder of Little Norway, who happened to know the right people, purchased the faux church and brought it to Little Norway in Southwestern Wisconsin, where it has been on view ever since.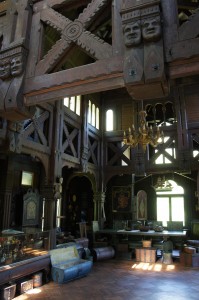 Not only is the building significant for its worlds fair history, but it is also a rare example of Norwegian stave church architecture, many originals having succommed to fire or the elements, which can be brutal in Scandinavia.  Inside are artifacts from Norwegian (and Norwegian-American) culture and history.
Little Norway itself is a traditional pioneer farm, settled in the 1800's by Norwegian immigrants, who dug a cave in a hill to spend their first winter (yikes!)before building a modest home.  Eventually, they would build several farm buildings (including a sod-roofed house) which now form the core of Little Norway.
Visit in the summer (May to October) because it's closed for the winter.  But you weren't going to visit then anyway.