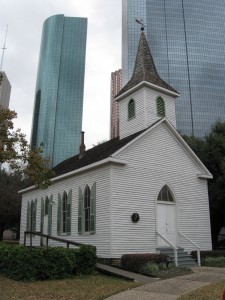 Those little old houses by downtown Houston really mean something.  I have always enjoyed the unlikely juxtaposition of historic homes and churches, plucked up by a giant and placed like children's playtoys in a park abutting the Houston Skyline.  But I had never taken the time to visit the Heritage Society in Sam Houston Park for a tour.
Houston's 53-story Heritage Plaza towers over (pardon the cliché) these little houses like a schoolkid ready to step on ants.  It's like the future (or a 1980's version of it) casting a shadow on the past, which is an apt metaphor for Houston, where historic buildings are often lost to new development, for better or worse.  Sam Houston Park calls to mind an animal refuge.  In this sanctuary, the Heritage Society has gathered up a handful of survivors, uprooted and relocated these historic structures in order to save them from extinction.  The Park itself was once home to various government entities and even a zoo.
The most significant structure to me is the Kellum-Noble House, built in 1847.  That would barely rank as "old" in Virginia or Massachusetts, but here it is remarkable because it is the oldest brick house in its original location.  Once, it was possible to sit on the second story porch, waiting for a non-existent breeze, and look out over the entirety of Houston, about a square mile wide and unblessed by air-conditioning.  It is a strange feeling in a city where 50 years ago is ancient history.  Houstonians don't often think back to the early settlements, and our historic sites are marked by modern buildings (like the San Jacinto Monument) instead of log cabins.  The house itself was elegant for the time, but would be too small today for most suburban developments.
The most elegant home is the Nichols-Rice-Cherry House, once owned by William Marsh Rice, founder of Rice University.  It was felt to have bad juju (for lack of a better term), so it was purchased in a steal by Emma Richardson Cherry, who was able to save it from demolition.
Other houses worth visiting are the 20th century Staiti House, similar to homes that you can still find in Westmoreland and the Heights.  Interiors, with faint echoes of Frank Lloyd-Wright, were designed by Albert Finn, architect of the Cullen Performance Hall at University of Houston.  The Yates House was owned by Rev. Jack Yates, a freed slave turned reverend who is the namesake of Yates High School.
Visitors to Houston who are interested in Houston's historic homes can take tours daily, which usually cover several (but not all) of the buildings.  The docents provide insight into the ways that different Houstonians, from the rich to working class, spent time at home.  Even if you can't take a tour, the museum gallery shows historical exhibits, and the park itself offers great photo opportunities of the Houston Skyline and the shocking contrast of the past overwhelmed by the future.
www.heritagesociety.org – Heritage Society of Houston
Tours of Houston historic homes Tuesday to Saturday at 10, 11:30, 1, and 2:30.  Sunday tours are only given at 1 and 2:30.  Admission to the museum is. free (10-4 Tues. to Sat. and 1-4 Sunday).