In China, it is not impolite to stare.  Western tourists to small cities will find themselves gawked at by kids and adults alike.  So, I didn't feel at all awkward when I was staring at a large white figure in downtown Shanghai:  an ugly skyscraper right across from the Oriental Pearl Tower, Shanghai's concrete Space Needle.
I love postmodern architecture.  I like the Chippendale-topped AT&T Building in New York City, and I am not afraid of Michael Graves' gaudy, overblown, pastel-hued Swan and Dolphin hotels in Orlando.  But I found this building in Shanghai to be one of the most fascinatingly ugly skyscrapers I have seen.
It is as if an 1800's-era draftsman dreamed of a Greek-revival tower that could never be constructed with technology of the day.  He drew a picture, but his dream was never realized.  This tower makes Caesars Palace look subtle.  It borrows from the simple magnificence of the Leaning Tower of Pisa to create a huge heavy over-columned Parthenon that is as out-of-place in modern Shanghai as it would be in Athens.  Perhaps the only place it would not be out of place is a Zeus cartoon.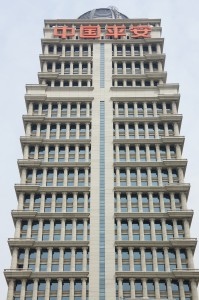 Capturing beauty in a photo is sometimes difficult.  So is capturing ugly.  But I did the best I could.  I think the only thing the photo misses is just how over-themed this place is.
But the more I looked at it, I couldn't stop staring.  It started to grow on me.  And if it weren't for the cheeseball Parthenon pediment on the bottom and the dome I could actually love it.  But that would be embarrassing.